I was Thirteen, He was a Seminary Student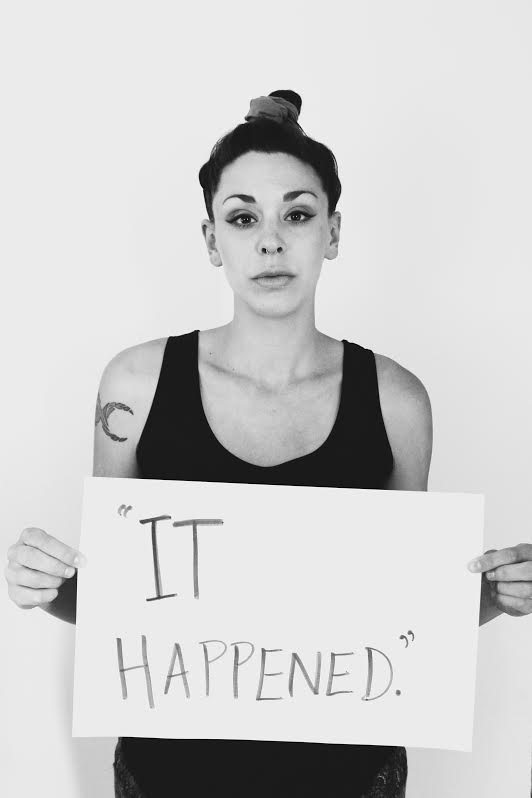 It Happened…
In 2000. That's the year I met him. He started grooming me right away. I was thirteen years old. I loved music, swimming, being with my friends, and playing outside. The sexual, verbal, and emotional abuse started when I was fourteen and lasted almost two years.
It Was…
A man ten years older than me. I met him through church. He was in seminary training to become a pastor — he was charming, polite, and had a great reputation. My parents rented out rooms in our house to college students from the church. He moved in when I was fourteen. Two weeks after he moved in we kissed for the first time. After that, things escalated quickly. We'd meet in the bathroom or he'd sneak into my bedroom at night and strip me naked, finger me, and force me to perform oral sex on him. He oiled the hinges of the doors so he could sneak into my room without waking anyone up. He told me he loved me and was going to marry me someday, and he said if I ever told anyone what was going on it would ruin our lives. I was blamed for all our encounters. He'd say I had tempted him and he couldn't resist me.He'd call me a slut and a whore and tell me no one else would ever love me. I was infatuated with him but consumed by shame and self-loathing.
It Made Me Feel…
Alienated. Depressed. Confused. Suffocated. On top of the sexual abuse he was wildly jealous of me and treated me terribly. I felt like I was in prison in my own home. Many times I wanted to scream out and tell my parents what was happening but I was too scared of what would happen if I told. I developed stomach ulcers and insomnia and started having panic attacks. I cut myself off from my friends. I stopped letting my dad come into my bedroom and didn't want to be hugged or touched my him, even though he had never hurt me. I smiled on the outside while I died on the inside. It was killing me but I didn't know how to make it stop.
I Told…
When I was 17 years old. I'd held it inside for years. It felt a bit liberating at first but mostly just terrifying. My parents believed me and went to our pastor and to the police. My abuser was arrested. Our pastor said what happened was my fault, too, and that I should be held responsible. He said my parents were foolish for not knowing what was happening and that they were responsible, too. Men in the church wrote letters to the judge defending my abuser. They said I was tall and pretty for my age. They said I was flirtatious and seductive. During sentencing, our pastor sat on my abuser's side of the courtroom. In an unexpected last minute turn of events, the judge significantly lightened my abuser's sentence — he ended up spending only 4 months in prison and he wasn't required to register as a sex offender. When he got out of prison he went back to the same church and was welcomed there. No one was informed or warned about what he'd done to me. No one knew how dangerous he was. People from church whispered and pointed at me after that, or they just completely ignored me. Friends wrote letters to me saying I needed to repent for my part in the "relationship" and find the lessons God was trying to teach me. No one asked how I was doing or offered me resources. I became even more depressed and eventually suicidal. I had never felt more alone in my life. When I was eighteen years old, I left the church and the pastor and elders put me under church discipline.
I Survived…
But not before nearly killing myself several times before I was twenty years old. When I was twenty, I married an incredible, kind man and started a family soon thereafter. My husband's understanding and support helped me to begin the long, tedious process of healing. I started Mindfulness Based Cognitive Therapy and continued for several years. Therapy played a very important role in my healing. When I was twenty three years old, through a personal blog, I began to share more openly about the abuse and subsequent shaming. This set me on a path that would eventually lead me to advocacy. Connecting with others through the painful story of my past has held incredible healing power for me, and I can't imagine where I'd be if I hadn't started sharing my experiences.
I Dream…
Of communities and churches that truly love and support victims and survivors of abuse rather than shaming and shunning them. I dream of a justice system that more reliably holds sexual criminals accountable for their actions and doesn't place disproportionate blame onto their victims. I dream of generations of youth who are taught what healthy relationships look like, who understand what consent means, and who respect themselves and those around them. Through blogging, social media, one-on-one interactions, and public speaking I currently dedicate much of my time to connecting with abuse victims and survivors and to raising awareness in communities and churches about these issues.
I Want…
Other survivors to know they are worthy of love. Nothing can ever change or diminish that. I want them to know they are not alone, and that there are resources available to them to help them on their journey to healing. I want those who have never suffered abuse to understand the depth of trauma abuse inflicts. I want them to know how important it is for survivors to feel connected and loved instead of judged. Each of us plays a vital role in making the world a better, safer place for victims of abuse. Healing begins with compassion and empathy.
---
Natalie is an Abuse Advocate, Blogger, Speaker & Musician who survived years of childhood sexual abuse and now shares her story with others through social media and public speaking in order to spread hope & healing.
You can read more on her
Blog
, and follower her on
Facebook
, and
Twitter
.
http://www.ithappened.me/2016/08/24/i-was-thirteen/