Australian sexual abuse victims bring campaign for justice to Israel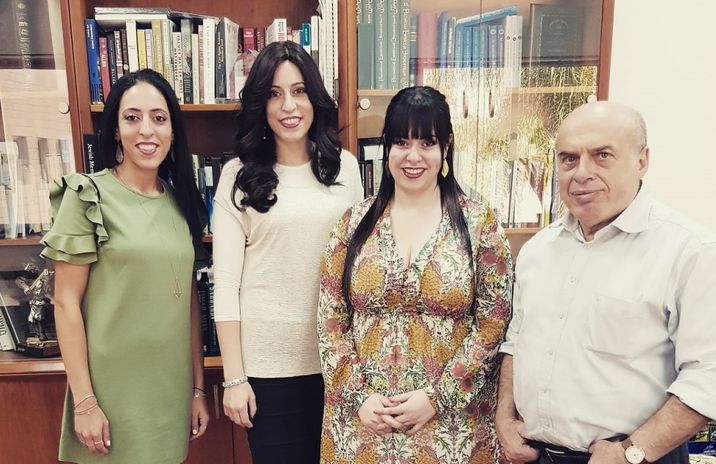 From left to right: sisters Elly Sapper, Nechama Meyer and Dassi Erlich with Jewish Agency Chairman Natan Sharansky in Jerusalem on October 27 2017

Australian PM is expected to demand Leifer's extradition during his meeting with Netanyahu


During his official visit to Israel this week, Australian prime minister Malcolm Turnbull will demand justice for three sisters whose alleged serial sexual abuser is living free in the city of Bnei Brak after successfully avoiding extradition by checking herself into psychiatric care on the day of her scheduled court appearances.
For the first time since launching a concerted public campaign last year, Australian woman Dassi Erlich and her two sisters are in Israel to heap pressure on officials to revive the stalled extradition process for former teacher Malka Leifer, wanted by police in the state of Victoria on 74 charges relating to sexual assault.
And Erlich has the growing anger of the Australian community -- Jewish and not -- behind her.
Leifer, an Israeli citizen, fled Australia on a midnight flight in 2008 after allegations surfaced that she had sexually abused more than eight teenage girls, both as students and teachers, at the ultra-Orthodox Adass Israel School in Melbourne.
The extradition process has been moving at a snail's pace for years because court-appointed psychiatrists in Israel say she is too mentally ill to attend an extradition hearing, although she has not been admitted to ongoing care and was photographed this year in attending a raucous Lag B'Omer religious festival in the village of Meron.
The only conditions placed on Leifer by the Jerusalem District Court were that she surrender her passport and attend psychiatric appointments roughly once every four weeks for up to ten years. There are no limits on her contact with young girls, something the sisters say is deeply concerning.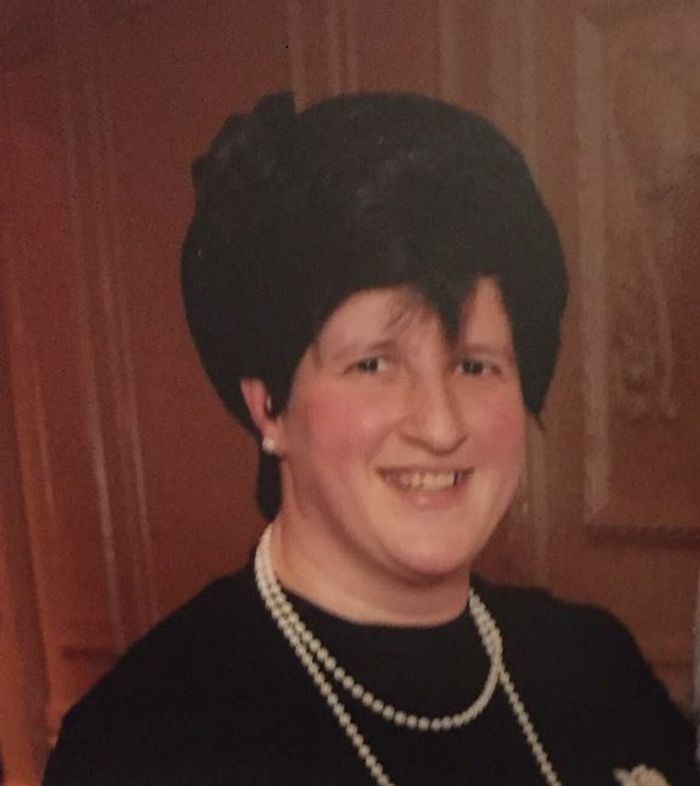 Malka Leifer, a former principal wanted for extradition to Australia on sex abuse charges is pictured here in 2006
There is swelling outrage in Australia's Jewish community and among survivors of sexual abuse over the case, enough that it has begun to taint Jerusalem's ties with what is seen as one of the most Israel-friendly governments in the world, just as hundreds of Australians descend on the country for the 100th anniversary of the ANZAC campaign in Be'er Sheva.
A delegation of Australian lawmakers is attempting to get a meeting with Minister of Justice Ayelet Shaked next week to hammer home their frustration over the legal process. Israeli prosecutors are understood to share their concerns.
Erlich met last month with Turnbull, who on Monday was asked what he will tell his Israeli counterpart Benjamin Netanyahu about the case during a much-anticipated visit alongside a bevvy of senior Australian political figures and Jewish community leaders.
"What I'll say is that justice demands that she be brought back to Australia to answer the charges," he told a press conference.
Last week, Dassi and her sisters, Elly Sapper and Nechama Meyer, took their battle to the Knesset, the Jewish Agency, and the state prosecutor in the hope of a breakthrough if they turn the screws on senior Israeli officials.
On Thursday the three women met with Jewish Agency chief Natan Sharansky in Jerusalem ahead of the board of governors meeting this week, which they described as "inspiring and encouraging".
"He assured us he would raise this issue with the Israeli government, not only for justice but for the safety of Jewish children in Israel and was well on behalf of the Jewish diaspora," the sisters told
i24NEWS
.
The meeting was arranged by Mark Leibler, chairman of the Australia/Israel & Jewish Affairs Council (approximate to the Australian version of AIPAC), who earlier this year met with Shaked to press home the Australian Jewish community's anguish over the stalled legal process. He did not respond to a request for comment on the meeting.
The sit-down with Sharansky came after a session in the Knesset on Wednesday in which the sisters strategized with Israeli lawmakers.
Likud MK Sharren Haskel -- who lived in Australia for several years -- told
i24NEWS
that "it's a very big issue for the Jewish community and an important issue for legislators in Australia," adding that it was frequently brought up in her meetings with legislators during a recent visit to the country.
"I've been working in the past few months to make sure that the PMO, the foreign ministry, and the justice ministry are all aware of this situation and are turning the wheels quicker to make sure that this person will get a trial," she said.
Influential Zionist Union member Meirav Michaeli, who has also met with Dassi on a trip to Australia earlier this year, said it was "inconceivable that a predator -- even though she's a Jewish ultra-Orthodox woman -- should enjoy an immunity just because the people she allegedly victimized live abroad."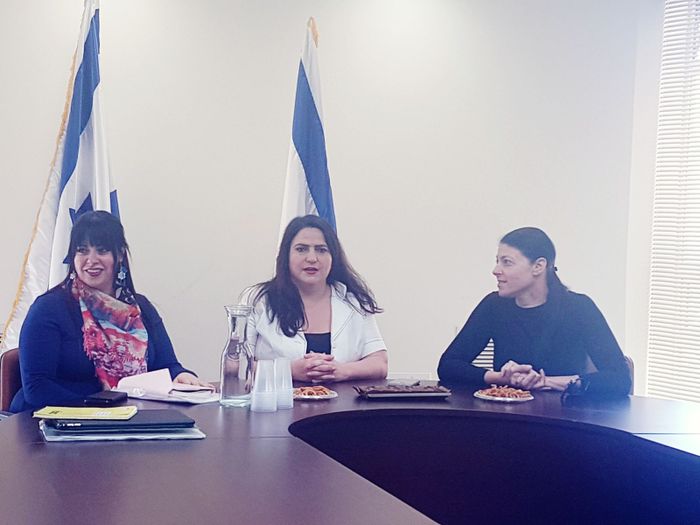 Dassi Erlich (L) meets with Zionist Union lawmakers Michal Biran and Meirav Michaeli in the Knesset on Wednesday October 27, 2017.
Michaeli noted that she and Michal Biran, another MK who has taken a strong interest in the Leifer case, have initiated a discussion in the Knesset's health committee to get "some answers as to the way she's been playing the mental health issue: turning it on when there's a hearing and turning it on when she can live her life."
On Friday Leifer's lawyer, Yehuda Fried, described her condition as "chronic" and said that she is barely able to hold a conversation or leave her home. He added in an interview with
Haaretz
newspaper that the extradition "will never come."
Leifer's alleged abuse against at least eight pupils -- victim advocates suspect there are more who are too afraid to come forward -- was described as "destructive and evil" by Victorian Supreme Court Justice Jack Rush QC in his decision to award Erlich $1.27 million Australian dollars (approximately $979,000 USD) in damages after a 2015 civil suit. It was the largest payout to a survivor of sexual abuse in the state's history.
"Leifer used her position of control, power and authority within the school to manipulate the plaintiff's sense of vulnerability," the judge wrote, adding that the motivation was her own "sexual gratification." Community members in Australia who tried to support victims at the time say they have been subject to threats and intimidation from people connected to the Leifers.
Evidence given in the case -- which was not disputed by the school -- said Leifer targeted girls who struggled with issues at home and carried out abuse in closed rooms at the school, on school camps, and in her private home.
According to the evidence, Leifer would tell the girls during the assaults that she was preparing them for marriage and showing them how to love.
The Adass Israel school is the heart of eastern Melbourne's insular and strictly observant Adass community, within which mixing of unrelated men and women is tightly controlled, and interaction with the outside community limited.
Dassi lived an ultra-Orthodox lifestyle in Israel for two years in the period before making the decision to seek justice through the courts.
"It feels so weird to be here for this reason, I never imagined coming to Israel for this," she said. "Never in my wild dreams did I imagine coming here for this. It feels so strange that we are here doing this but the level of campaigning had become so big that we feel it was necessary that we come here."
"When I lived here I was living here as a Haredi (ultra-Orthodox) religious woman, still living a very sheltered life, I never imagined that this is where I would end up."
http://www.i24news.tv/en/news/israel/israel/158737-171027-sexual-abuse-victims-bring-campaign-for-justice-to-israel?utm_source=SIM&utm_medium=email&utm_campaign=Newsletter_20171102_en&utm_content=&utm_term=