'Kinderguardians' endorsed by many kosher yeshiva organizations and kosher for Passover use in synagogues and hotel programs
WATCH: Sacha Baron Cohen gets US Congressmen to endorse 'Israeli' toddler gun program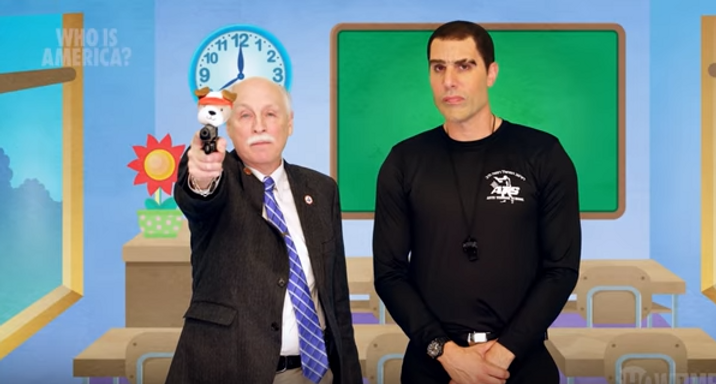 Sacha Baron Cohen poses as an Israeli anti-terror commando seeking US endorsement for a fictitious toddler gun training program



In the first episode of his provocative new show "Who Is America", British comedian Sacha Baron Cohen poses as a macho Israeli commando and gets US Congressmen to endorse a fake gun training program for children as young as three.

The satirical seven-episode series, which premiered Sunday on Showtime, sees Cohen adopt different personas to interview unsuspecting public figures in a caricature of the American political and cultural climate in the era of Donald Trump.

In a preview of the series' first episode, Sacha Baron Cohen disguises himself as boorish Israeli commando shopping a fictitious Israeli gun training program for toddlers called 'Kinderguardians' -- a caustic parody of Trump's call to arm teachers in response to an epidemic of school shootings in the country.

Sacha Baron Cohen's "Col. Erran Morad" enlists gun advocate Philip Van Cleave to star in a promotional video for program, featuring children's songs and an array of weaponry adorned with stuffed toys called "gunimals".

"Today we're going to teach you how you can stop these naughty men and have them take a long nap," Cleave says as Baron Cohen's character introduces "Puppy Pistol".

"Just remember to point Puppy Pistol's mouth right at the middle of the bad man," Cleave says. "If he has a big fat tummy, point it there!"

In Washington, Cohen manages to get Republican Congressmen Dana Rohrabacher of California and Joe Wilson of South Carolina, along with former Senate Republican leader Trent Lott (now a lobbyist for a Washington law firm), former Illinois Congressman turned radio talk show host Joe Walsh, and gun advocate Larry Pratt to endorse the program.

Pratt, apparently reading from a pre-prepared script, touts the "proven science" behind the program oblivious to the fact that it is peppered with nonsensical pop culture references.

"Children under five also have elevated levels of the pheromone Blink-182 produced by the part of the liver known as the Rita Ora. This allows nerve reflexes to travel along the Cardi B pathway to the Wiz Khalifa 40 percent faster saving time and saving lives," Pratt says.

Asked to comment on his appearance in the video, a representative for Congressman Dana Rohrbacher claimed in a statement to i24NEWS that "[Baron] Cohen's people apparently used footage from an interview the Congressman submitted to earlier this year for a bogus Israeli television company supposedly celebrating the country's 70th anniversary."

"In the interview I spoke broadly of training young people at a responsible age in self-defense. At no time did I endorse training toddlers in handling guns," a statement from the Rohrbacher said.
"I love good satire, but good satire must reveal some basis in truth. This was fraud, a sick fraud," the Congressman added.
A press person for Congressman Joe Wilson referred
i24NEWS
to a story in a South Carolina newspaper in which Wilson is quoted as saying that "public officials of both parties, like everyone, can be the target of practical jokes."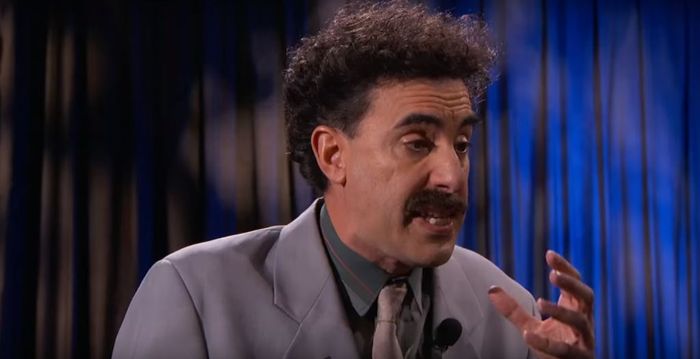 Sacha Baron Cohen en Borat Sagdiyev
Walsh told
CNN
on Saturday that he was tricked into reading the words off a teleprompter, and that he had also been asked to read lines promoting other supposed Israeli ideas, including arming four-year-olds to defend themselves against terrorists.
"I'll probably laugh at myself" Walsh told
CNN
, brushing off his appearance on the show. "He's a funny guy because he gets people to say stupid things."
"This is America" is Baron Cohen's first new television venture in nearly a decade.
In another teaser for the series, former vice president Dick Cheney is asked to sign Baron Cohen's character's "waterboard kit" -- an empty water bottle.
Former vice presidential nominee and ex-Alaska governor Sarah Palin will also feature in the series, admitting on Wednesday she was duped into an interview with Baron Cohen who was disguised as a disabled US veteran.
Palin said she ultimately walked out of the interview and slammed what she called the Cambridge-educated comedian's "foreign commentaries" that disrespected the US military and middle-class Americans.
Sacha Baron Cohen first found fame in Britain in 2000 with "Da Ali G Show" that saw his wannabe rapper character interview unsuspecting public figures -- including business mogul Donald Trump before he was elected president.
He followed a similar format with hit movie characters that include bumbling Kazakh reporter Borat and gay Austrian fashionista Bruno.
https://www.i24news.tv/en/news/culture/179564-180716-watch-sacha-baron-cohen-gets-us-congressmen-to-endorse-israeli-toddler-gun-program?utm_source=SIM&utm_medium=email&utm_campaign=Newsletter_20180719_en&utm_content=&utm_term=