Rabbi warns Jewish women not to wear red and yellow or 'sinful' skirts that reveal their knees
The letter was sent to 5,000 ultra-Orthodox Jewish homes in North London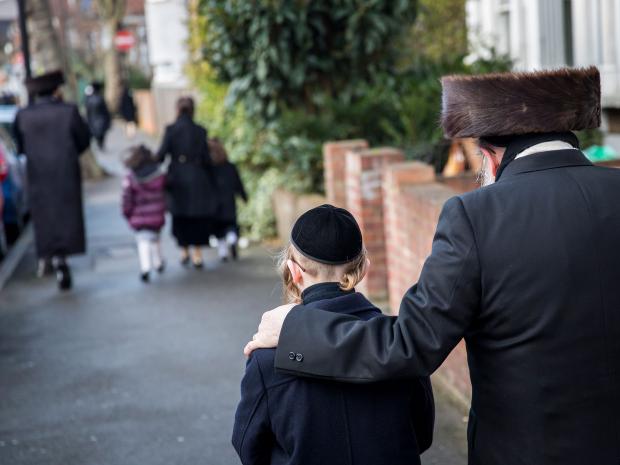 An Ultra-Orthodox Jewish rabbi has issued a letter to thousands of women warning them it is a sin to wear skirts which show their knees,
The Independent
has learned.
The letter, seen by
The Independent,
warns women to adhere to a list of "cardinal points" in how they dress. The rules include covering one's knees, wearing fabric loose enough to cover the outline of one's hips and forbids wearing bright colours.
The letter is signed by a senior rabbi and was sent to 5,000 homes in the Stamford Hill area of North London.
The letter states: "The length of a skirt must extend until at least 4" (10 cm) below the end of the knee. This is required because only with this additional length is one assured that the knees will remain covered even when running, sitting down, climbing stairs etc.
"The width of the blouse or other top garment should be so that the shape of [the] upper body is not apparent. The width of the skirt must be such that the hips and thighs are hidden and camouflaged by skirt.
"The clothes should not have an unusual style as they would be eye-catching. The clothes should not have any unusual style as they would be eye-catching. Similarly the clothes must not be red, a bright yellow or fluorescent colour which are very eye-catching. Instead calm colours should be worn."
Dina Brawer from the Jewish Orthodox Feminist Alliance, told
The Independent:
"Modesty is indeed a very important Jewish value which applies equally to both women and men. It is about a mindset that values dignity and discretion.
"Tasteful clothing is only one manifestation of this value. Obsessing over women's hemlines paradoxically undermines this value and smacks of male control."
In September last year, it was revealed
a state school in the community told mothers they had to adhere to a strict dress code
while their children were enrolled as pupils. A parent claimed Yesodey Hatorah stipulated that mothers must "refrain from following trends which contradict the spirit of modesty... the wearing of flashy or very brightly coloured clothing is forbidden... dresses and skirts may not be shorter than 4 inches below the knees... a slit in a skirt or a dress is absolutely forbidden even if it is completely below the knees." The school confirmed the dress code but said there was no expectation that children would be expelled if their mothers did not adhere to it.
The Board of Deputies of British Jews
estimates there are around 30,000 ultra-Orthodox Jews
living in the UK, amounting to 10 per cent of the total British Jewish population.
http://www.independent.co.uk/news/uk/home-news/ultra-orthodox-rabbi-issues-letter-warning-to-women-it-is-a-sin-to-wear-skirts-revealing-their-knees-a7322726.html